Are you a life coach looking to attract your ideal client, increase conversions, improve revenue, and build trust with your audience?
Maybe you've clicked on this article because you're thinking a quiz might be the right solution for you and you're looking for an example of what that might look like.
Well, you're in the right place because in this article we're going to show you an example of a powerful and successful quiz we delivered for The Parent Practice, who offer coaching, classes and workshops to parents.
We'll take a look at the quiz itself. Then we'll delve into just why The Parent Practice put their faith in SMA Digital. We'll then examine what the quiz solves for, what quiz takers get out of the experience and what makes it stand out from the competition.
The Quiz

The quiz, titled 'How is your parenting style impacting you and your children?' identifies what the quiz taker's parenting style is and explains how it is affecting them and their families. The quiz makes suggestions for the changes that are needed and that will have the most positive outcomes for them and their children's specific needs.
The quiz is free and only takes three minutes to complete. Quiz takers receive personalised feedback and a free, printable, shareable pdf report of their results, what they mean and practical tips. These valuable resources empower parents to start making positive changes straight away, with no investment or commitment.
Why did the Parent Practice choose SMA Digital?
Having worked with over 700 businesses across a vast and diverse range industries, SMA Digital are the leader in the quiz marketing space. B2C coaching businesses happen to be one of our biggest niche's and we have worked with dozens of reputed life coaches across the globe.
So, when Elaine at The Parenting Practice decided to develop a tool that would enable her prospects and to self-identify their parenting style and find out what that means for them and their children, she came to us. Elaine knew that our experience, knowledge, and expertise of what makes a valuable, meaningful and powerful quiz would achieve the results she wanted.
What problems does the quiz solve?
Nothing prepares you for parenthood and a lot of people find the reality of it hard to handle, which can lead them to respond in a way that isn't compatible with a positive relationship with their children. Elaine's mission is to help people change their parenting story by sharing her positive parenting techniques and teaching parents new skills about children and psychology.
Elaine wanted a tool that would help her get to know her prospects' parenting style so that she can offer them the best value and suggest the approach that's right for them and their families.
She wanted a way to help them implement some quick changes, so that they can start seeing the difference her help could make immediately, without having to invest their time and money to find out.
The quiz questions and answer options take into account a full range of behaviours, allowing prospects to choose an answer that reflects their own thinking and reactions. Their overall score places them in one of the four parenting style categories that Elaine has developed through years of experience. They are:
The Firm Parent
The Permissive Parent
The Hands-off Parent
The Balanced Parent
Their score then generates their automatic personalised feedback that includes tips and techniques that work best for their parenting style.
Elaine also wanted the quiz to act as a tool to segment her prospects into those who are ready and open to change, try new things and invest in their family from those who want a quick fix, without having to change anything they are doing or invest their own time.
The quiz can do this through asking some very deliberate and targeted questions that reveal the prospects' aims and level of commitment. Because the quiz is integrated with Elaine's CRM platform, leads are automatically segmented depending on how they answered certain questions. Elaine can then set up automated personalised responses that are appropriate for each person who took the quiz.
What do customers gain from the quiz?
For Elaine's prospective clients the quiz provides an opportunity to evaluate how they would react and deal with specific and realistic scenarios that might arise in their day to day lives as parents. The questions are written in a relaxed and friendly way, they mirror the language and phrases parents might use with their own children, which provides a very familiar, non-judgemental and safe experience for the quiz takers.
Having completed the questions, quiz takers enter their email addresses and receive instant results. They are told what their parenting style is and what that means in a very positive and reassuring way.
The results page includes a personalised video from Elaine, which speaks directly to the quiz taker about their results and makes personalised recommendations. The video is a fantastic way to put quiz takers at ease and allows them to digest the information in an engaging format.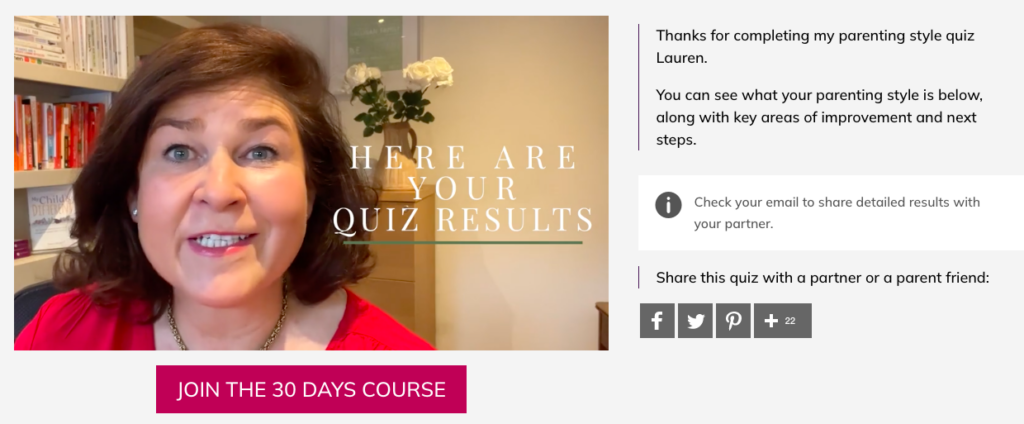 Progressing through the results page, the feedback pinpoints the main things that the individual quiz taker is doing well, providing more validation, reassurance, and trust. Results are also displayed visually in a radar chart, so the quiz taker can see the extent to which they fall into each parenting style category.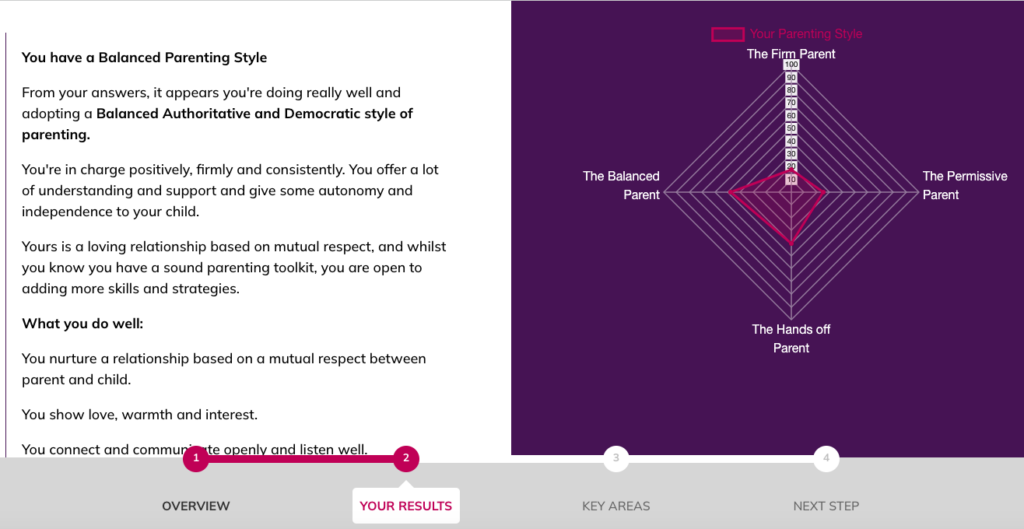 Quiz takers are given even more value with practical tips on how they can elevate their parenting and add to their toolkit.
The results page rounds off with a personalised call to action, giving the quiz taker clear next steps that are relevant to them. The last word is given to Elaine's past clients in the form of two testimonials that boost Elaine's credibility and build even more trust.
The pdf report is emailed instantly, so quiz takers can immediately share it with their co parents, partners and friends. It shows how they answered each question along with the other answer options they didn't select, providing the opportunity to reassess and reflect.
What makes it better than the competition? 
As we do with all our clients, SMA Digital took the time to examine The Parent Practices' offerings and their knowledge of their ideal client. We drew on Elaine's expertise and experience and combined it with what we know about what makes a successful quiz. The result is a quiz that is completely bespoke to The Parent Practice's target audience, their needs, pain points and goals.
The quiz positions Elaine and The Parent Practice as the trusted advisor and thought leader in the space. Potential and existing clients receive instant value through discovering how their current parenting is affecting their children and then being provided with tailored advice and specific tools for how they can be the best parents they can be. All within a warm, caring, and non-judgemental user experience.